Longer walks for Hamble
29 Mar 2022
Kelsey has been using both a powered wheelchair and a manual wheelchair for the past 6 years. The powered wheelchair allows Kelsey to cover longer distances but isn't very comfortable and is difficult to transport. The manual wheelchair has a huge benefits including exercise but Kelsey has to rely of friends to push her as she tires quickly. The solution was a powered attachment for her manual wheelchair. Unfortunately there is no statutory funding for these. DTD Charity was able to help with funding toward a SMOOV and now Kelsey and her assistant dog Hamble can enjoy longer walks together. Kelsey writes, 'Hamble and I went to meet up with friends for some lunch and for the first time we didn't need someone to meet me at my car and push me to the restaurant. I was also able to take Hamble to some grass to toilet instead of asking a friend to do it!' We call that a result.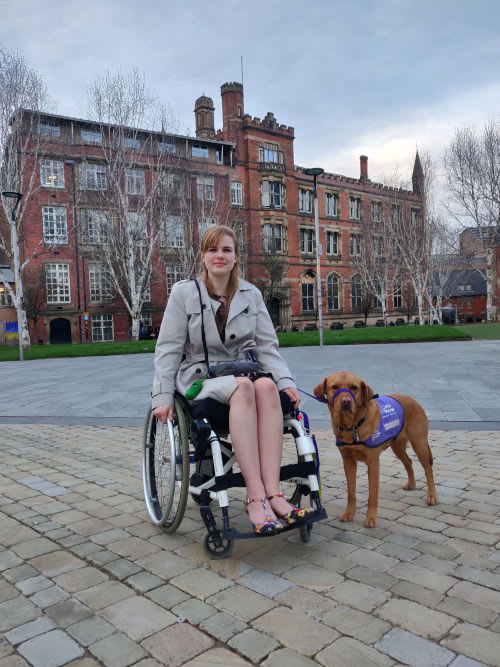 Power for a manual wheelchair
05 Nov 2021
We have recently been able to help with a Firefly wheelchair attachment and Briar writes to say, 'It's making such a difference already being able to access more places and have less pain and fatigue- if it wasn't for the Firefly, I wouldn't have actually been able to self-propel myself to go out because of the pain I was in. My dogs love trotting along next to it too and going on longer walks now I can be more mobile- my assistance dog Bramble is in the photo. Thank you so much to the charity for providing the grant, it's definitely been life changing. Thank you.'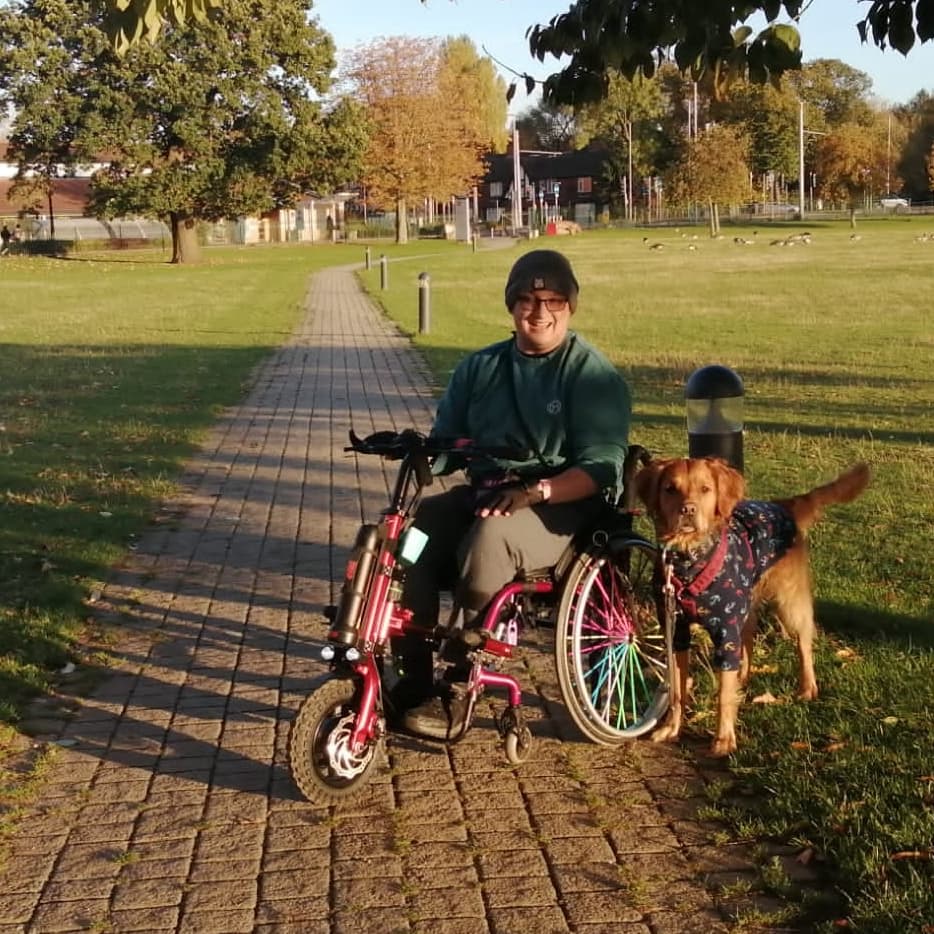 A very happy Alan
04 Nov 2021
Unfortunatley we are not able to accept mobility scooter applications at the moment.
We were able to Alan, who has Charcot Marie Tooth disease, and his daughter, who attends a special school, with funding for a mobility scooter. Alan writes, 'Now I can pick my daughter up from school and we can go out again without any worries as I can not lie all of the stress before was really getting me down which I'm so pleased to say it has stopped now I can go out without the worry of the little things stopped us. I can take my daughter outside again to do activities like picking leaves and acorns at the moment it's just amazing words can't express how truly grateful I am. Thanks to everyone at DTD.'
Wheelchair repairs
06 Oct 2021
Recently we've been able to help fund repairs to a damaged wheelchair. Following a road traffic accident K was left with a complete spinal cord injury. After many years of use her wheelchair was showing increasing signs of wear and damage. This was causing pressure areas on her thigh and her physio was concerned that she would get further pressure and friction injuries if she continued to use the chair as it was. She writes to say, 'Here's to say a massive Thank You for your funding. I received my wheelchair back today and its Amazing! 
You made this happen and I am forever grateful for all you did.' 
Wheelchairs Galore
02 Sep 2021
Through July and August DTD Charity has been busy processing wheelchair applications and the trustees have been able to make pledges towards five different wheelchairs. Pledge amounts have varied from £780 to £5,000.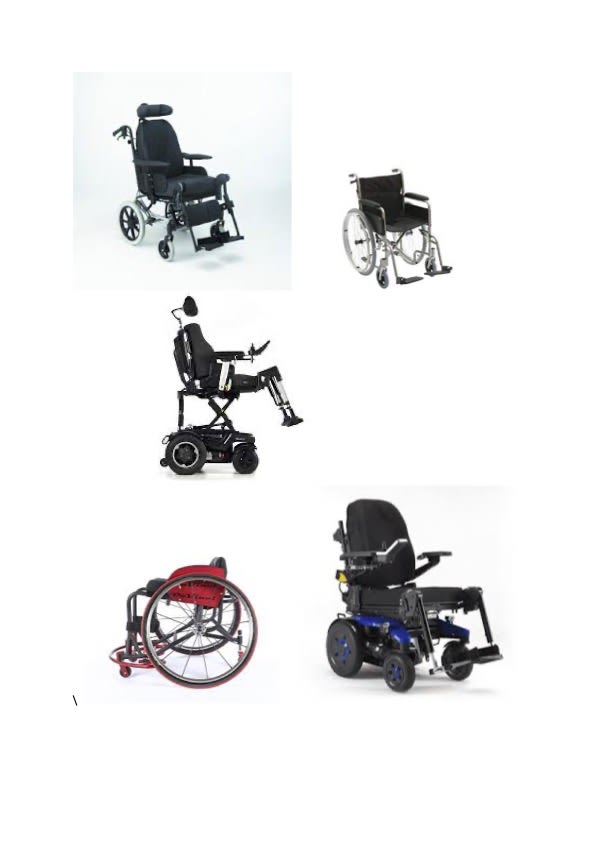 Lightweight Wheelchair
06 Jul 2021
Chris, who is tetraplegic following an accident in his early 20's, recently developed an immune system syndrome which has weakened his muscles. After an extended stay in hospital in 2020 it became clear that his old wheelchair was no longer suitable as it was too heavy for him to manoeuvre effectively. "I am writing to say a big thank you for the £2,500 you donated towards a new lightweight wheelchair. Along with some funding from wheelchair services I managed to get enough funds to purchase the chair. I now have my new chair and I love it. It has already made a huge difference to my independence and Wellbeing. I feel so much more confident. Thank you once again."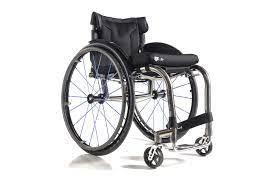 Powered Wheelchair
22 Jun 2021
Kevin has facioscapulohumeral muscular dystrophy. This means a progressive muscle degeneration, with increasing weakness and loss of bulk of muscles. A powered wheelchair was recommended for Kevin and DTD Charity was able to fund the full amount needed to purchase it. We were delighted to hear from Kevin a few weeks after he took delivery of new wheelchair when he wrote to say, "it has made my life so much better, have been out on it a lot".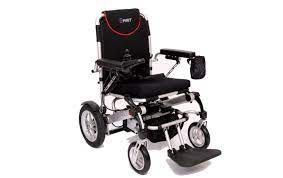 Wheelchair funding
01 Jun 2021
After quite a battle and with part funding from DTD Charity, Heather was finally able to get the wheelchair she needed. After a lower leg amputation Heather has not always been able to use her prosthetic which can be very uncomfortable. She needed a lightweight wheelchair with removable wheels so that she could easily get it in and out of the car and maintain her independence. She writes to say, "So grateful for your help it's changed mine and my daughter's life. Thanks to having this chair I can at least get outside. Forever grateful." 
Exerciser
09 Mar 2021
Megan has cerebral palsy and uses a powered wheelchair for day to day activities. Her physio was keen for Megan to exercise her arms and legs to help with muscle and joint stiffness as well as maintaining cardiovascular fitness. DTD Charity has been able to help by part funding a MOTOmed LOOP for arms and legs. Not the easiest, to take a selfie whilst using a hand cycle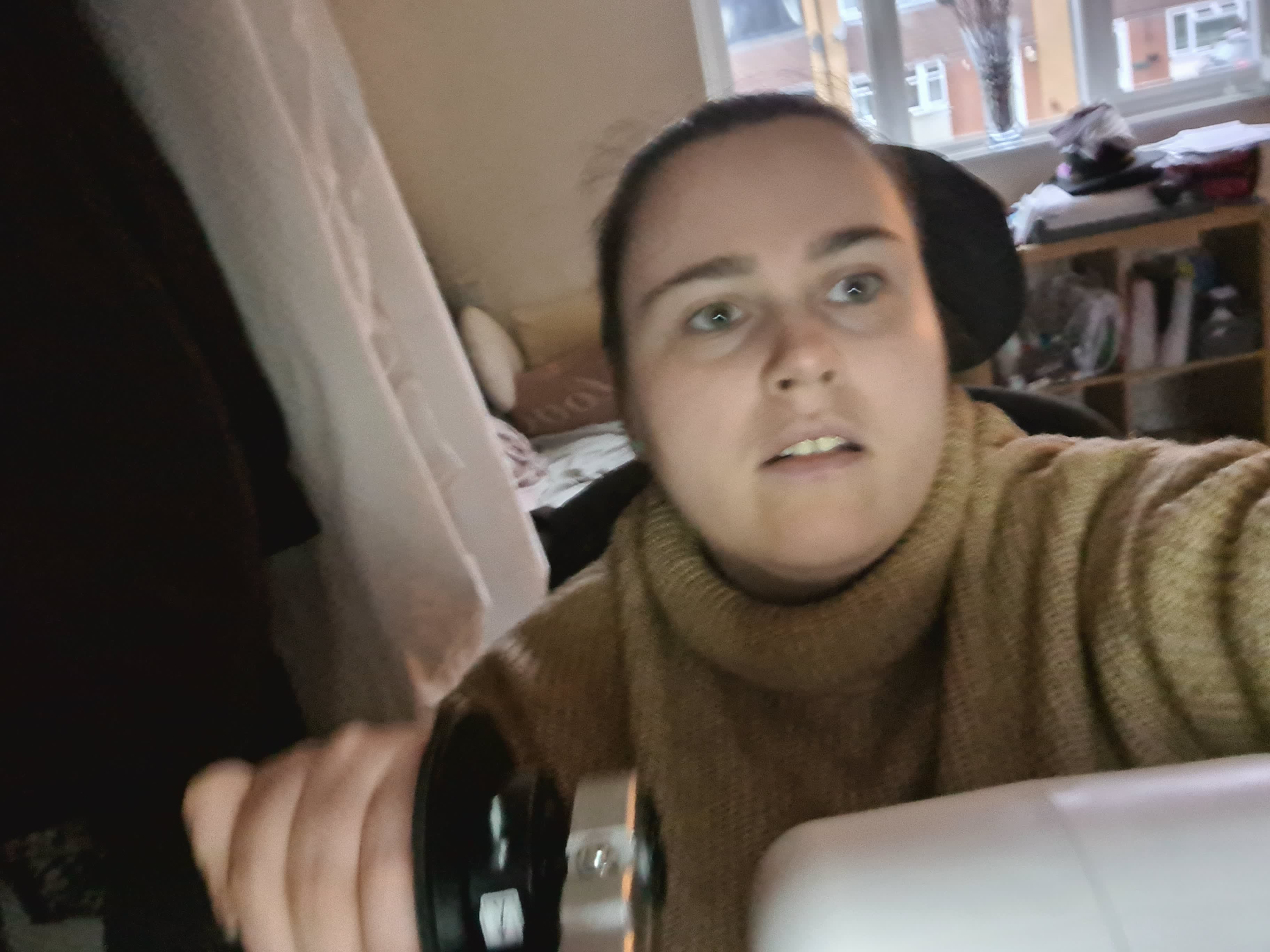 Electric wheelchair
08 Feb 2021
DTD Charity is delighted to have been able to help Mark fund his new wheelchair. He was born with Arthrogryposis Multiplex Congenital and his specialist chair allows him to move around independently.
Mark writes, "I am so thrilled with it.  I can already feel a huge difference in my comfort. Thank you so much for your kind pledge."
When the Covid restrictions abate Mark will be able to get out and about again and once more be able to get down to the local pool to enjoy his weekly swim.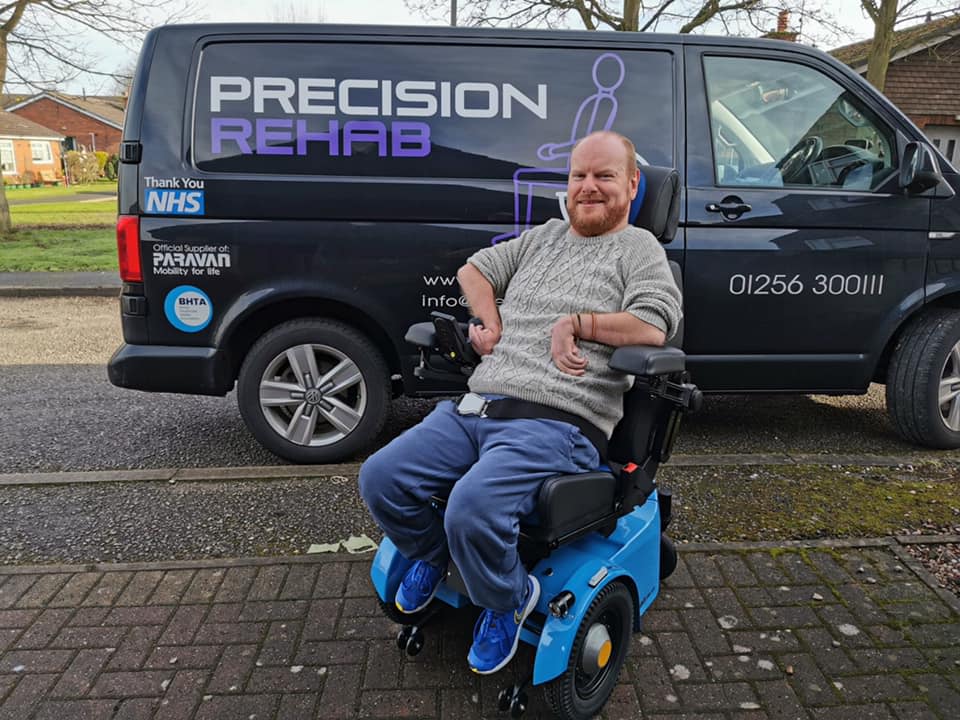 Smart Drive
10 Nov 2020
Following a road traffic accident in his teens Rob became a full-time wheelchair user. After many years of use Rob's shoulders were being to give him increased pain and were making it particularly difficult for him to manoeuvre on uneven surfaces. DTD Charity was able to help with funding toward a Smart Drive and Rob has written to say what a difference it has made especially as he has been able to avoid shoulder surgery. He has also been able to spend more quality time outdoors with his grandson, a real bonus in this very strange year.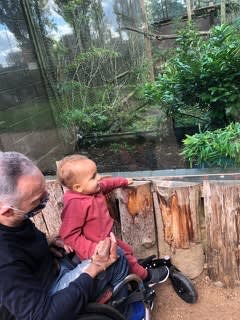 A safe space to sleep
19 Aug 2020
Just before lockdown we were able to help Danny who is non-verbal autistic and struggles with sleeping. His mum writes to say, "Thank you so much for all your help in getting the safe space bed . It has  been amazing . It's a life changing piece of equipment . Danny's sleep routine has been so much more settled and I have piece of mind knowing he's safe and the fact that Danny loves it so much is a added bonus! Sending big thanks".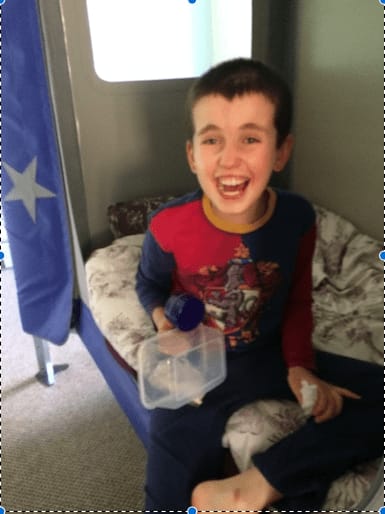 Hand-cycle for a wheelchair
17 Feb 2020
12 years ago Philip, from Notttingham, had a life changing accident and is now tetraplegic. In order to help with fitness and generally getting out and about he had a hand cycle attachment for his manual wheelchair. After 10 years of use this needed replacing and DTD Charity was able to help with funding towards a Speedy Duo 2. Philip's OT has written to say, "He is continuing to enjoy the freedom gained from having a bike that he is able to operate independently...Thank you again for the help DTD Charity has given."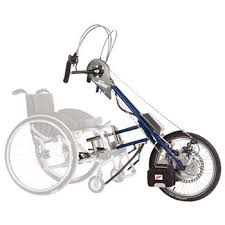 Thank you
16 Jan 2020
On a cold, wet January day this montage has made me smile. I hope it makes you smile too 
.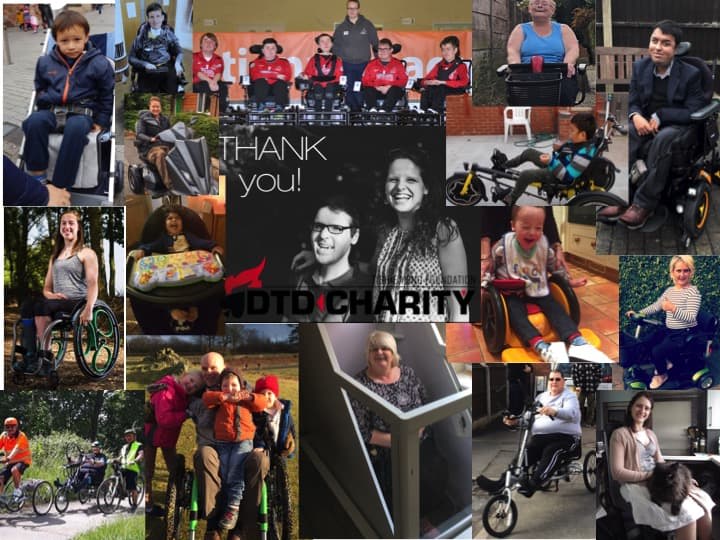 Mobility Scooter
28 Nov 2019
Unfortunatley we are not able to accept mobility scooter applications at the moment.
Left as a below knee amputee after a teenage accident Rob was finding it increasing difficult to get out and about. DTD Charity has been able to help with funding for a mobility scooter.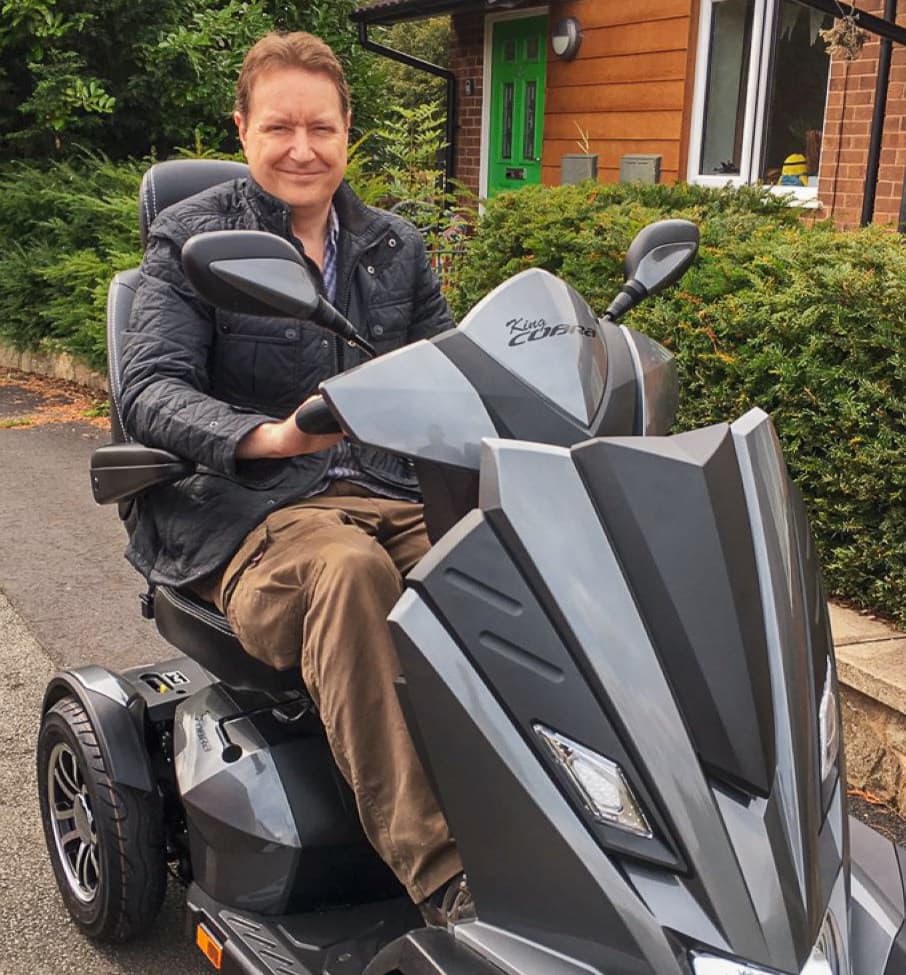 Electric Wheelchair
17 Nov 2019
A lovely 'thank-you' from Shaun.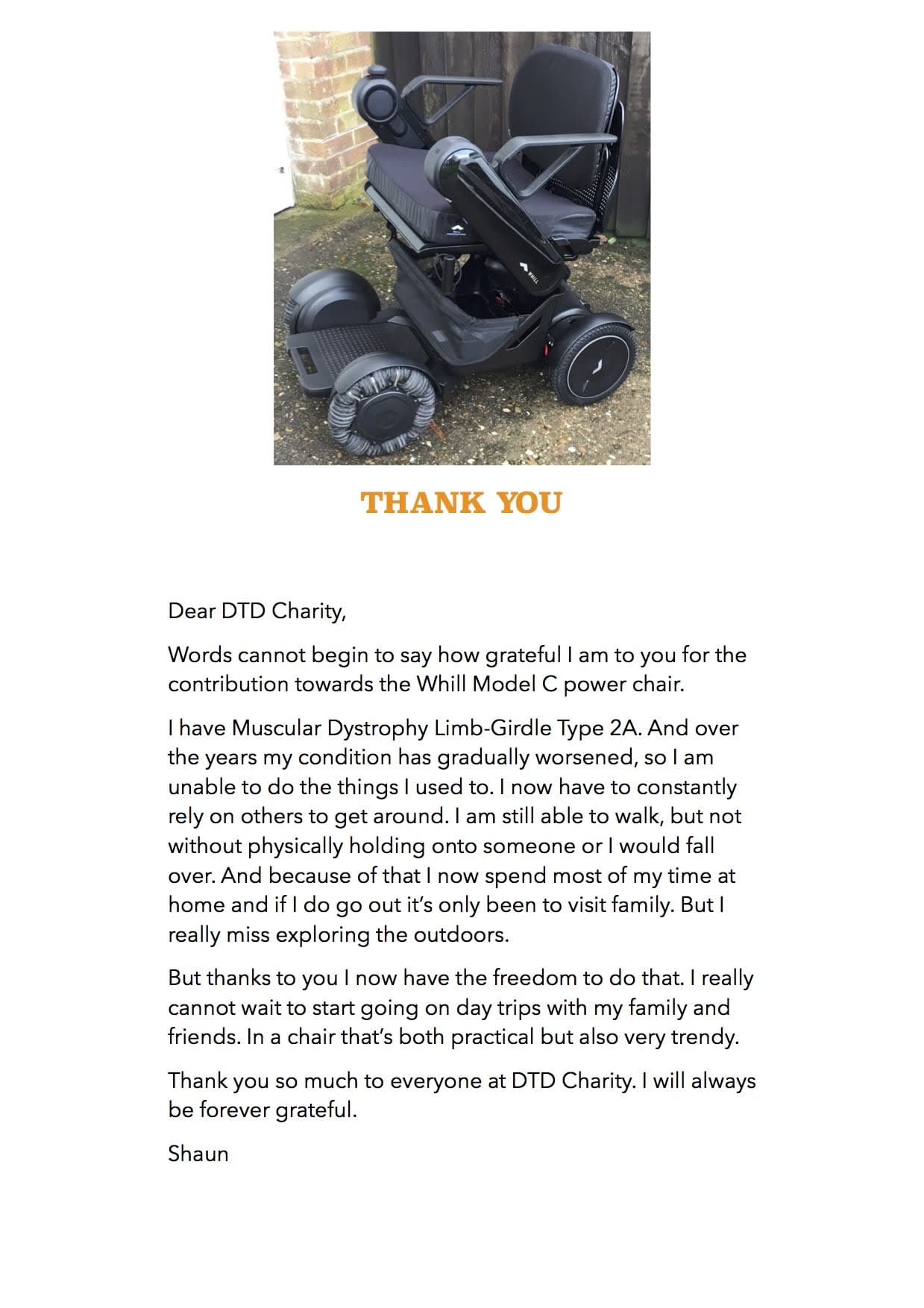 Mobility Scooter
23 Sep 2019
Unfortunatley we are not able to accept mobility scooter applications at the moment.
Janet has sent this wonderful photo to say thank you to DTD Charity for funding her mobility scooter. She is no longer housebound and can now get out and about and visit friends and family locally.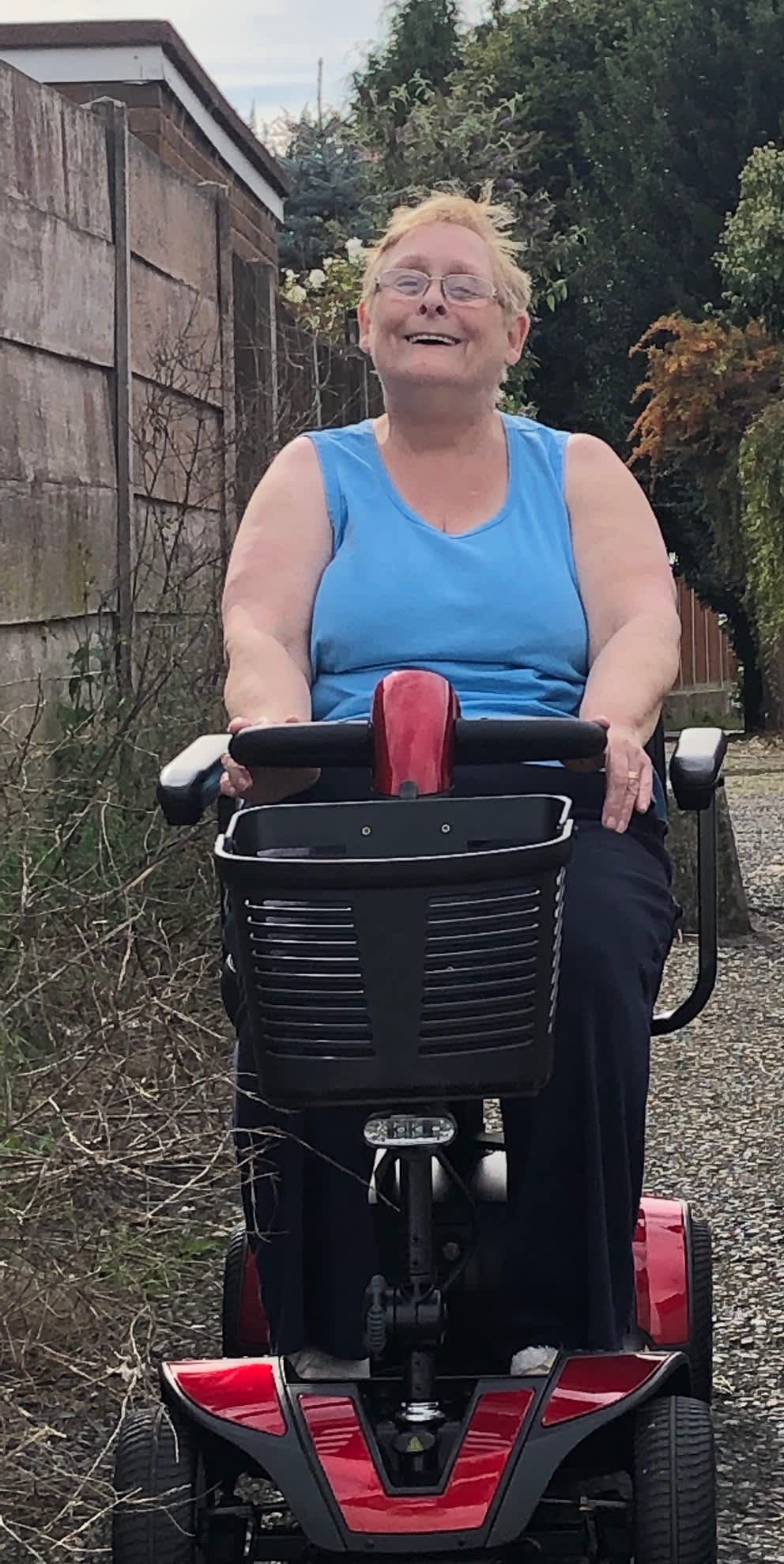 Hand-cycle
23 Jul 2019
A couple of years ago we were able to help Andrew with the final bit of funding towards a hand-cycle. Andrew has become a keen cyclist and has really benefitted from the activity. He has kept in touch and came back to us this year to see if we could top up the funds he needed to make some modifications to his hand-cycle. With a small motor attached he is now able to pedal further and he continues to get all the physical and social benefits of cycling.
Deaf Awareness Week
07 May 2019
DTD Charity is marking Deaf Awareness Week, 6th-12th May. Previously we have been able to help Isla who was born profoundly deaf. She has bilateral cochlear implants which allows her to attend mainstream school, however she was not going to be allowed to join her classmates for swimming lessons as her implants can not be used in water.  We were able to help with the purchase of a water tight system and Isla's mum wrote to say, "Isla had her first swimming lesson with school yesterday and her teacher reported back that she coped really well. Isla told me she really enjoyed it too, despite being very anxious about it the night before.  Isla has also been wearing her new kit in the bath and shower, a time of day which used to be quite difficult due to Isla getting frustrated by feeling isolated, as she bathed in complete silence, and much prefers to listen than lip read or sign. The experience of the sound of the shower water running over her for the first time, something we take for granted and probably completely ignore, put a huge smile on her little face. We as a family will always be truly grateful."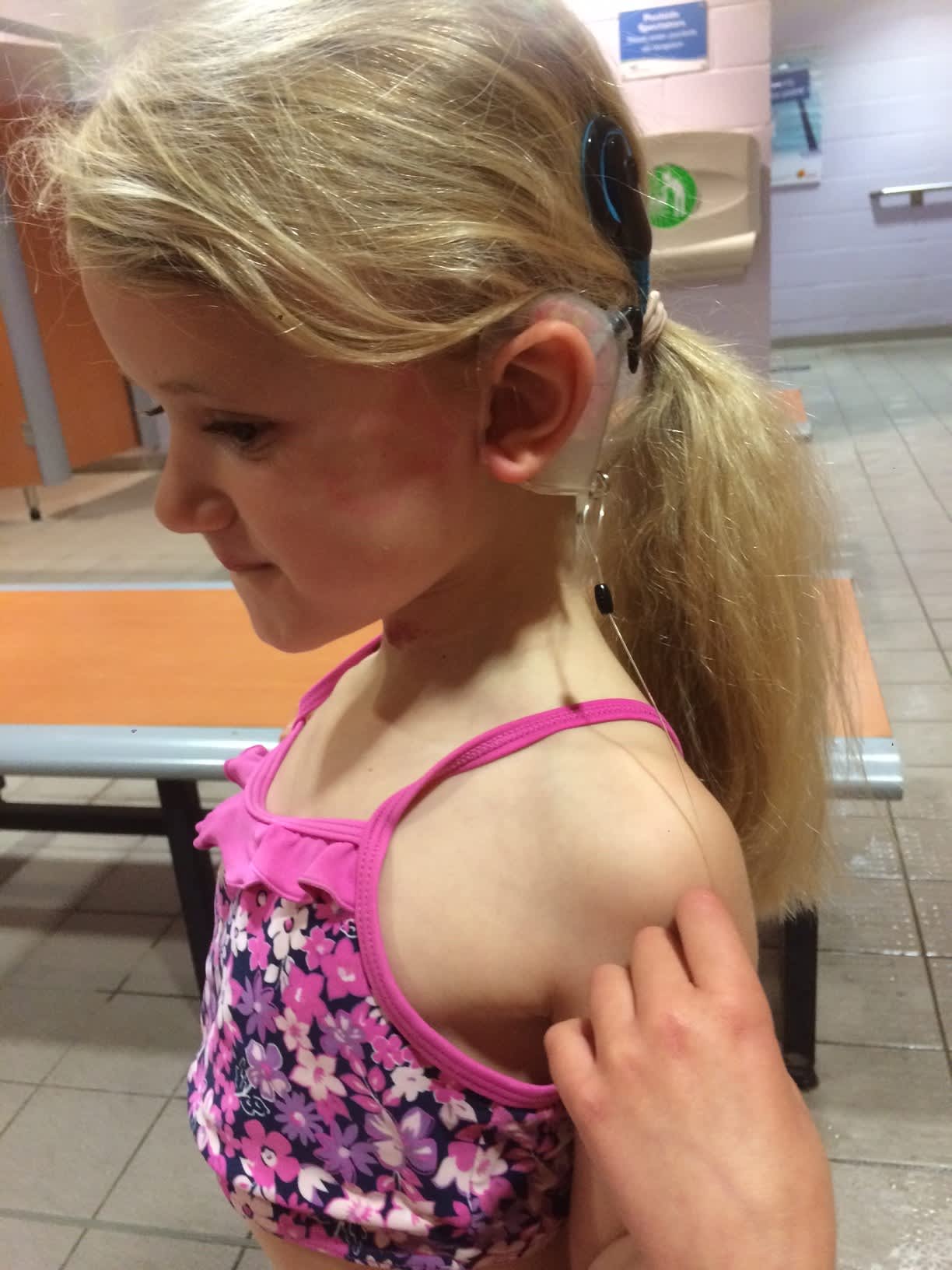 Muscular Dystrophy Wheelchair
10 Mar 2019
DTD Charity was able to help a 27 year old Leicester man who has Duchenne Muscular Dystrophy by contributing towards his new wheelchair. His mum wrote to say, 'I must say a big thank you as this wouldn't have been possible to achieve without you. You have really made a big difference to my son's quality of life and we will be grateful always.'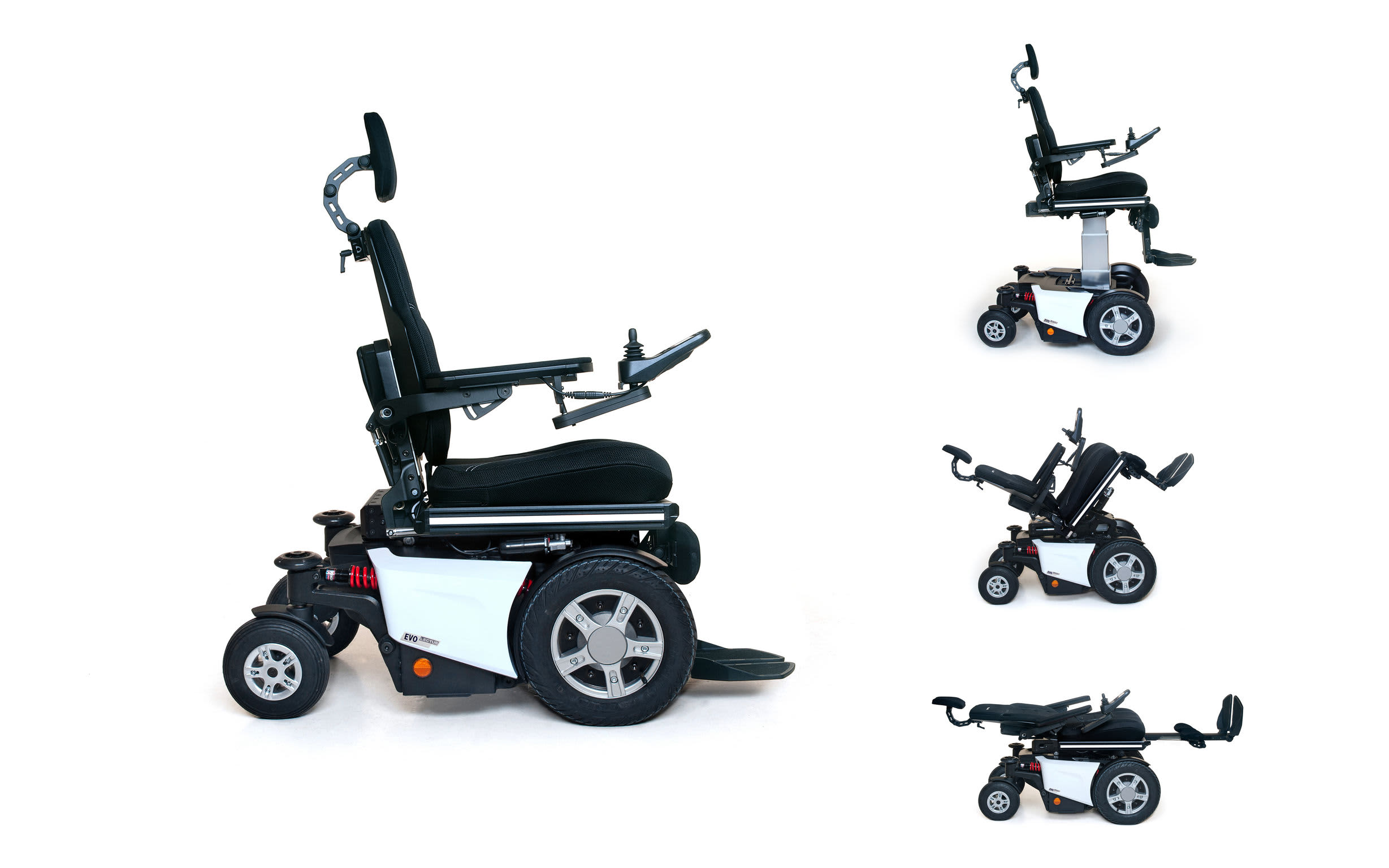 Rebound Therapy
04 Mar 2019
DTD Charity are delighted to have funded a trampoline for a Nottinghamshire SEN school. After a couple of hours unloading the lorry and setting up the equipment Zoe was ready for some rebound therapy along with Chloe Smith of Ash Lea School.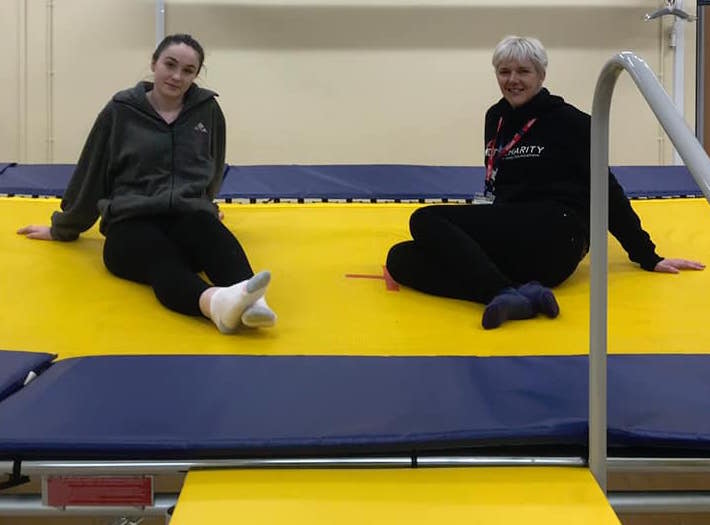 Wheelchair
01 Feb 2019
Paige has limited mobility due to cerebral palsy. She is in an elite level wheelchair racer and has recently started a new job at the Matt Hampson Foundation. DTD Charity was able to help with funding towards a new day chair. She writes, 'My chair promotes, correctly supported seating and helps with maintaining posture and comfort when in use on a daily basis. I wouldn't be without it, it has made the world of difference and gives me my independence. Thanks again for your support.'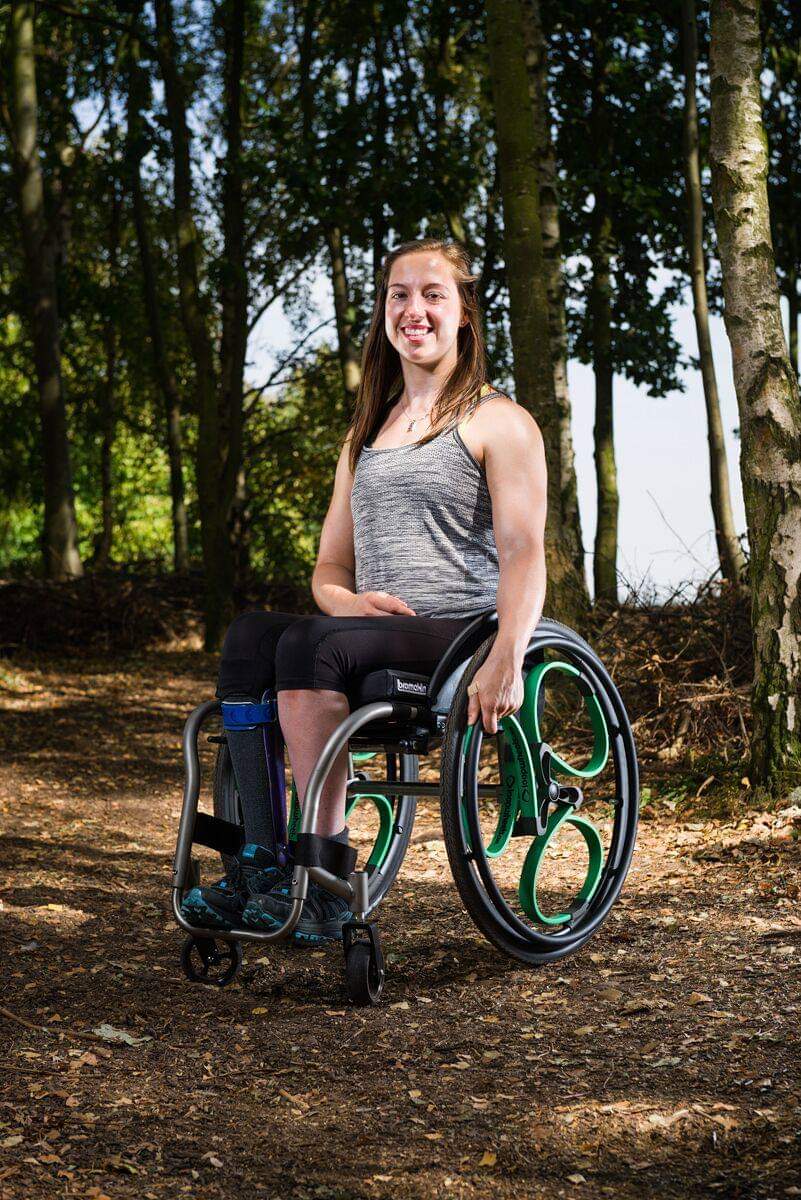 Mobility Scooter
22 Jan 2019
Unfortunatley we are not able to accept mobility scooter applications at the moment.
Six months ago Ieva was involved in a road traffic accident which has left her with life-changing injuries. Having recovered from length surgery and a period of rehabilitation Ieva now is able to walk short distances with 2 sticks. Longer distances cause pain and discomfort. DTD Charity were able to help with the purchase of a scooter. Ieva is delighted to be re-gaining her independence and freedom.
Safe Travel Bed
22 Jan 2019
A Nottinghamshire mum, who's son has cerebral palsy, wrote to say, 'I am just messaging you to thank you & the DTD Charity for helping us to raise the money for our son's special needs travel bed. We have now received the bed and are over the moon with it. This bed is a life saver, we no longer have to worry about Robbie's safety when we are on holiday. So here's a massive thank you from the bottom of our hearts, you all are amazing.'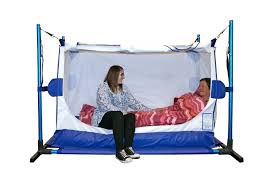 A new trike
21 Oct 2018
Dominic has Kabuki syndrome, low muscle tone, speech and learning disability. His developmental delay means he needs help with all aspects of his daily life and personal care.  Although Dominic cannot stand unaided he loves outdoor activities and had enjoyed family days out on a trike which he outgrew. DTD Charity were able to help with a replacement trike which can be pushed from behind which will help with Dominic's leg muscle tone or attached to a bike and towed along by the pedal power of mum or dad. On a good day Dominic will be able to propel himself.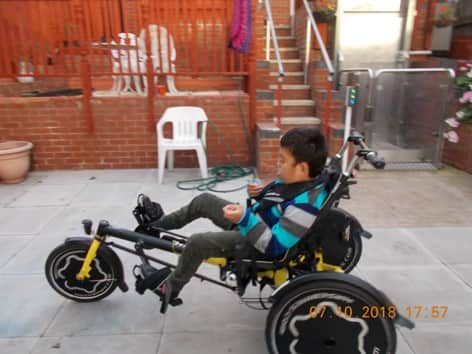 Brenda and Zoe trying out a Vest
03 Oct 2018
Cystic Fibrosis is an inherited genetic disease that affects over 10,000 people in the UK. A thick, sticky mucus accumulates in the lungs, pancreas, intestines and other organs causing a wide range of challenging symptoms. The Wolfson CF Centre is the regional adult centre based at City Hospital, Nottingham and DTD Charity was able to help with funding for two High Frequency Chest Wall Oscilliation Vests. A vest is usually worn for 20-30 minutes for up to 3-4 times a day and can be a useful alternative for some people who are not able spend hours a day doing physiotherapy and taking nebulised treatments to alleviate symptoms and minimize lung infections.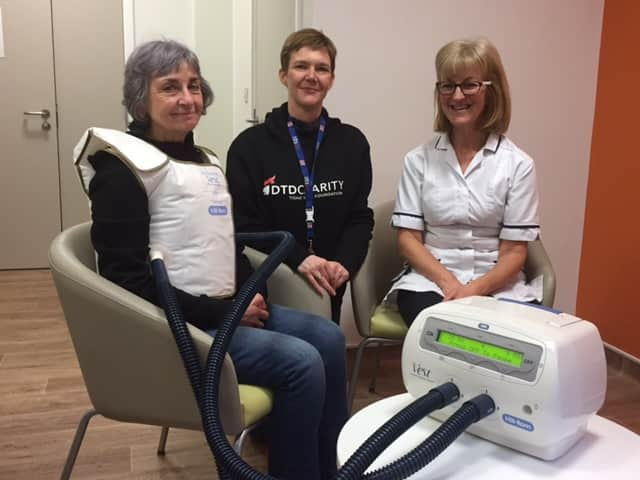 Mobility Scooter
18 Sep 2018
Unfortunatley we are not able to accept mobility scooter applications at the moment.
Gillian's chronic back pain had left her incontinent and unable to walk more than a few paces. Although Wheelchair Services had supplied her with an indoor electric wheelchair they wouldn't provide an outdoor one due to access problems. This meant that Gillian was very isolated and lacked any independence. DTD Charity was able to help with the purchase of a mobility scooter. At Christmas Gillian wrote to say how her life had greatly improved with the scooter and how she was enjoying getting out and about. It was lovely to hear about such a positive outcome.
Through-floor Lift
18 Sep 2018
After an acute illness Hazel had to have one leg amputated above the knee. She has worked hard with her physio and is aiming to return to work as soon as she can. Hazel lives in a typical Victorian terrace with an extremely steep staircase. After much discussion and debate she was advised that in no circumstances should she try to climb the stairs herself and that unfortunately the staircase was not suitable for a stairlift. Hazel was facing a future of sleeping alone downstairs but DTD Charity were able to help with some funding towards a through floor lift. She is now able to safely access the bedroom and bathroom and Hazel wanted to thank all involved with making this happen for her.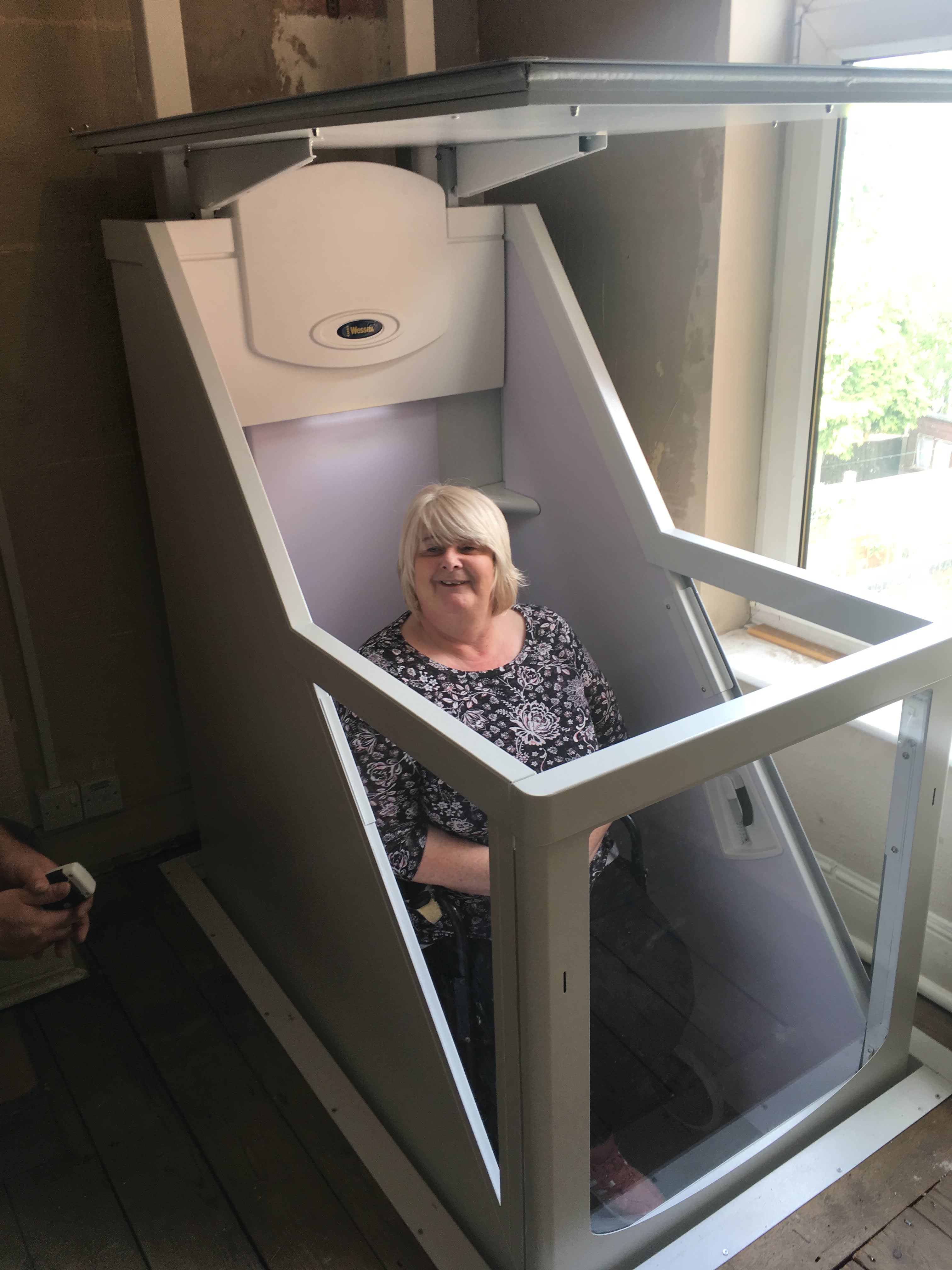 Re-bound Therapy
18 Sep 2018
Peter, 1, lives in supported living in Nottinghamshire. He has severe autism and learning disabilities together with challenging behaviour. Peter loved his trampoline which had a wonderful calming effect on him. Unfortunately it was old and became unsafe for him to use. DTD Charity was able to help with a new in-ground trampoline which was suitable for both Peter and his housemate. This will help with both sensory experiences and exercise. One of Peter's carers writes to say, "I would like to thank you for your donations and contributions to the installation of this, it is proving to be of great benefit."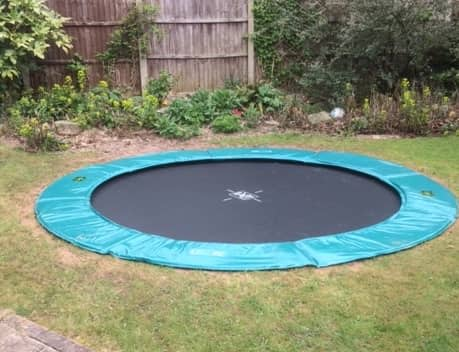 Nicola's Electric Wheelchair
18 Sep 2018
Nicola has cerebral palsy and was no longer able to manage her manual wheelchair. She and her family had saved hard to allow Nicola to fund the adaptations of her own home in Birmingham to allow her to live independent. She had to defer her college teaching course as the electric chair temporarily provided by Wheelchair Services was just not suitable. A number of charities, including DTD Charity were able to help by contributing towards a suitable chair for Nicola. She writes to say, "The Dragon powerchair really is fantastic, thanks so much for your support with purchasing it: it makes my busy life better and easier in so many ways, from social interaction with people standing up, to playing with my cat on the floor, to picking things up if I drop them, and getting underneath tables of varying heights, due to its ability to change height to such a great degree."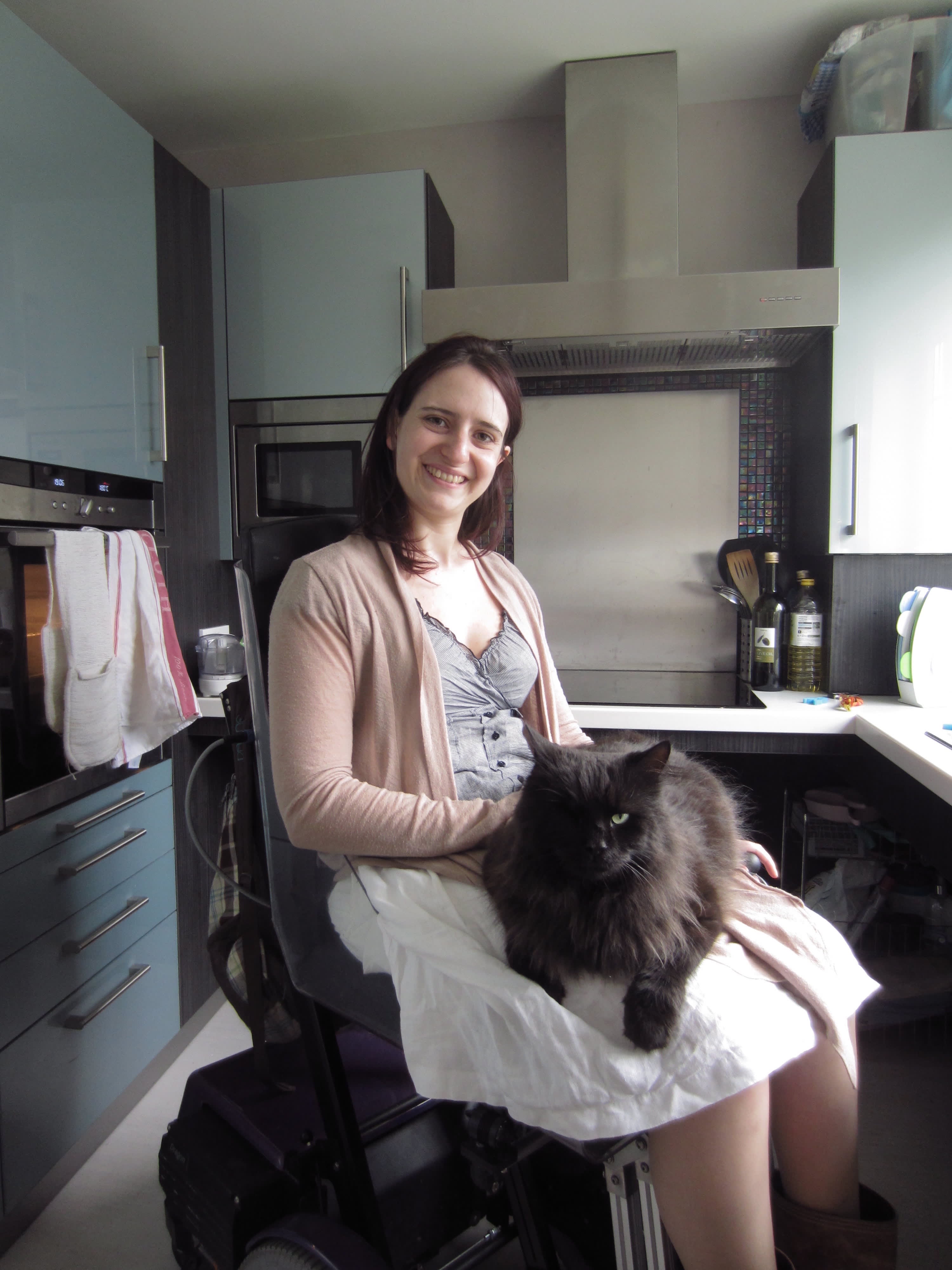 Nirav's Electric Wheelchair
18 Sep 2018
Nirav, from Nottingham, has merosin deficit congenial muscular dystrophy and is reliant on an electric wheelchair for all his mobility needs. His previous chair was old and had been discontinued meaning he could no longer get replacement parts. DTD Charity were able to help by contributing towards his new chair which in turn has helped Nirav to continue to be an active member of the Muscular Dystrophy UK's Trailblazers, a network of young disabled people who campaign to remove the barriers that prevent them from living full and independent lives. He writes to say, "I sit a lot straighter and I feel and the seat raising function has definitely been a life changer. Many many thanks once again for all your assistance."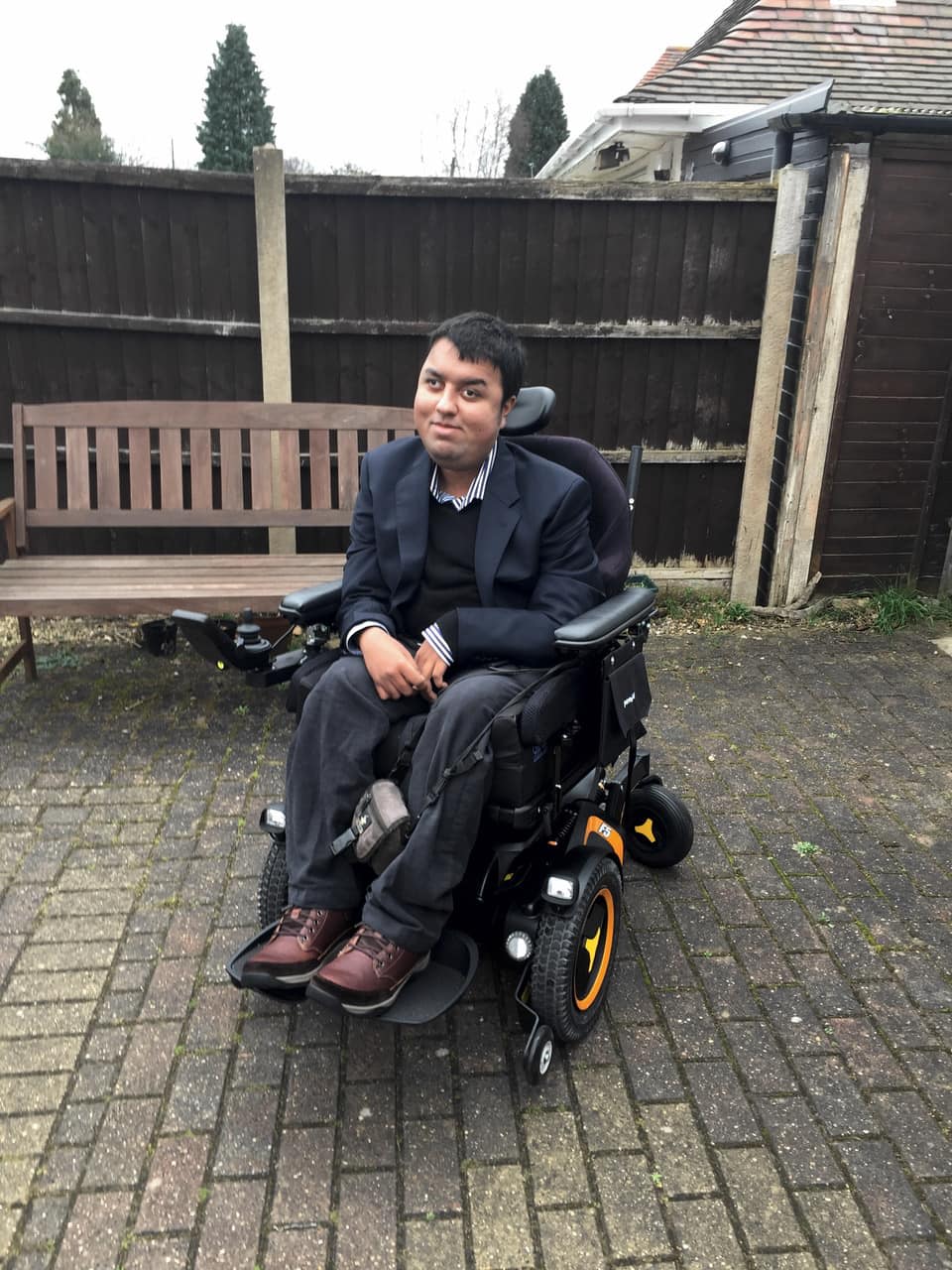 Electric Wheelchair
18 Sep 2018
In Dominic's own words - 'I am writing to say a big thank you for the £2,000 you donated towards a new powered wheelchair. Along with some funding from other charities I managed to get enough funds to purchase the chair. As you can see I now have my new chair and I love it. It has lights and indicators and it has a micro-control which I can manage even though I don't have much strength in my hands. I feel so much more confident. Thank you once again. Dominic'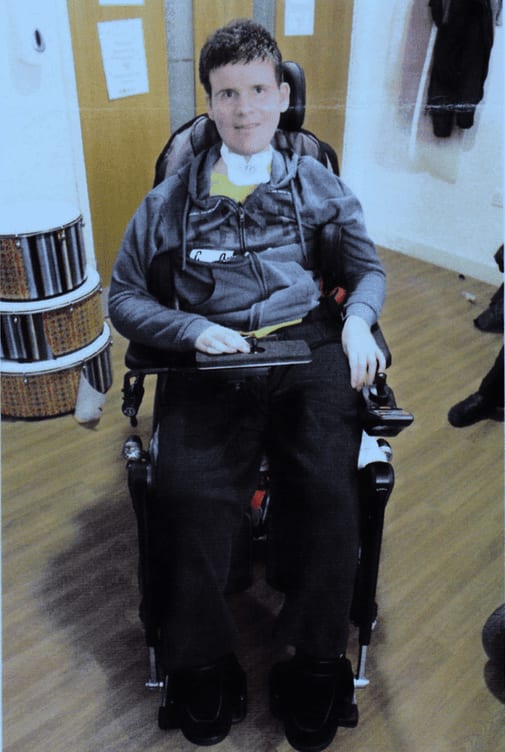 Profiling Bed
18 Sep 2018
One of DTD Charity's recent grants was for a profiling bed and our happy client has written to say, "I would like to say again a big Thank you for the grant and all your support you provided for me, this grant will make a difference in my life. From the beginning of this year I was struggling with my health. and now your charity have given a grant which means I can get an adjustable bed to support my needs.'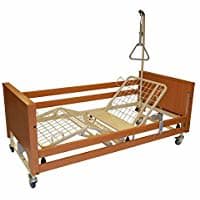 Scooot
18 Sep 2018
Harrison is now three years old and lives in Warwickshire with his mum and dad. Despite extensive testing Harrison's condition remains undiagnosed although it is clear he has severe global delay, low muscle tone and limited movement of his legs. Harrison however remains a happy and contented little boy who likes his books and playing with his toys. DTD Charity were able to help by funding a Scooot which provides an early experience of independence for children with mobility challenges. It frees them to explore their home, play and race around without help. Mum wrote, "Just a short note to say, we received it just after Christmas and Harrison is using it every day". Many thanks to both you and the DTD Charity for all your help and assistance with this."
Hand-cycle
18 Sep 2018
Andrew, who lives in the West Midlands was given a medical discharge from the Army having served for 9 years. His knee injury continued to worsen and now Andrew uses a wheelchair 90% of the time. Having lived an outdoor and active life Andrew managed to keep his mind engaged but struggled to remain physically fit. Andrew raised half the money towards a hand-cycle and DTD Charity was able to help by funding the remainder. Within a few weeks Andrew was able to increase the distance he could cycle and wrote to say, "Thanks again for helping me get this wonderful machine."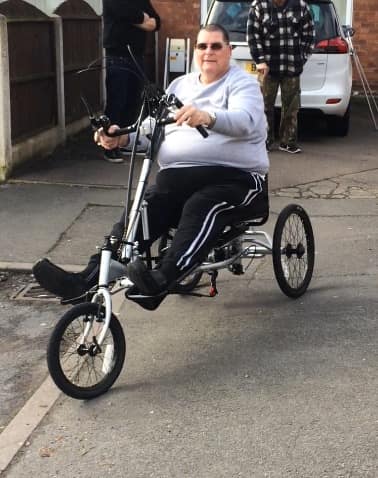 Drop Arm Chair
18 Sep 2018
Jasdeep has cerebral palsy which includes being blind and having learning difficulties. He was no longer able to go to day care as there was no appropriate chair for him to sit in. Spending too long in his wheelchair was extremely uncomfortable for Jasdeep and was leading to challenging behaviour. DTD Charity was able to help with the purchase of a drop arm chair which allows Jasdeep to side transfer from his wheelchair and therefore access respite care. His advocate writes to say, "Once again many thanks, It is humbling to think that employees are willing to contribute in this way to the charity."